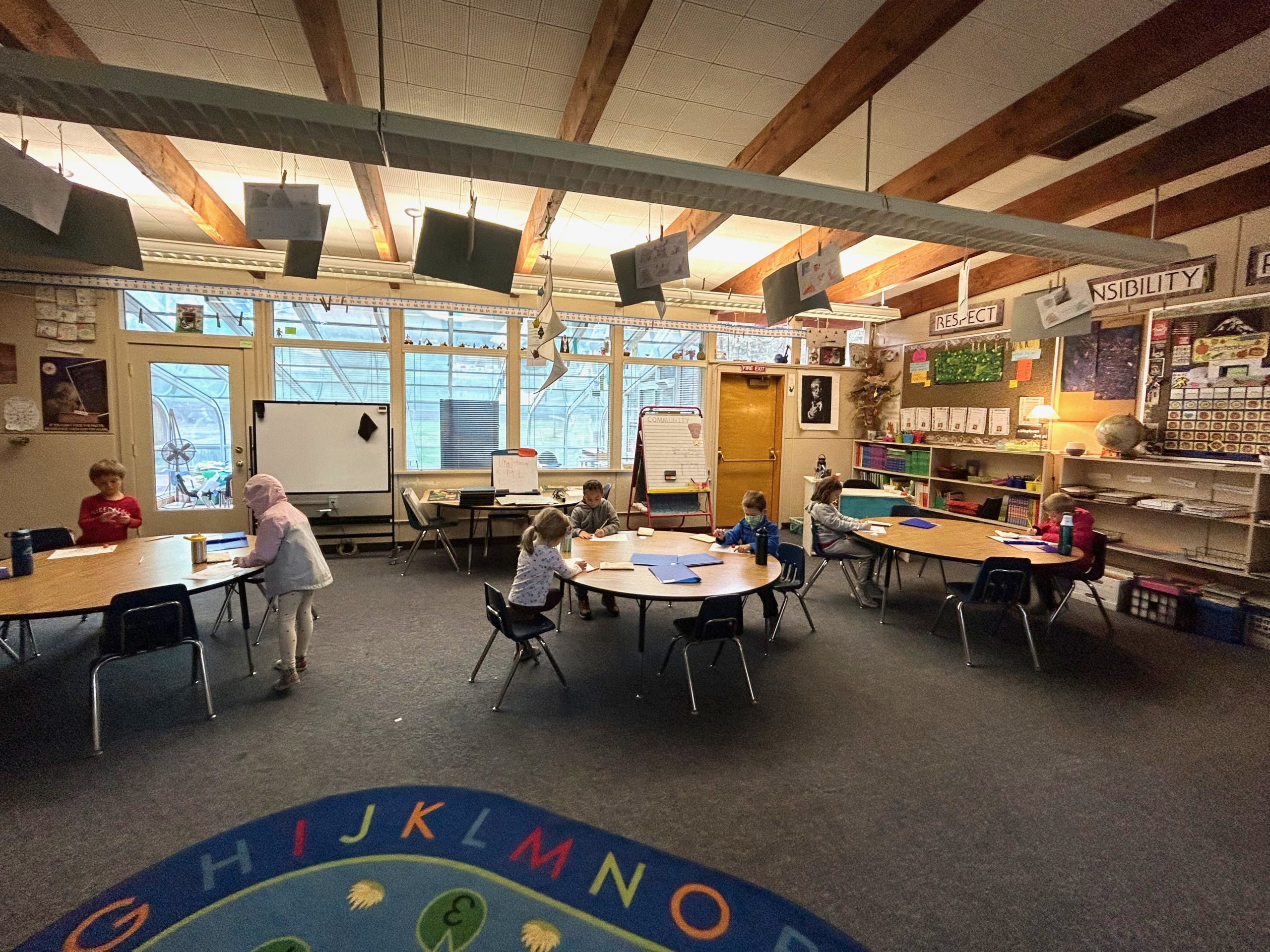 Here is our Classroom Update for Week 4.
Whole School:
On our second field trip this Friday, students will explore the temperate rainforest of the Western Cascades and compare this to our local forest, as well as to the desert climate of next week's field trip to Smith Rock. These field trips are an integral part of our Field Studies curriculum and an important way for students to take their classroom lessons to experiential learning.
From Ms. Kassie: kdemarsh@blackbutte.k12.or.us
In K/1 Math students brought home their purple folders today with Have You Seen My Dragon?  The purple folders should live in student's backpacks and be a way to transfer work home. Unless otherwise noted please assume anything that is in the pockets is to come home and stay home. Anything that is hole punched should stay in the middle until moved to a side pocket.
In K-3rd Science we are looking forward to our field trip this week. We will be looking for signs of life cycles plus adaptations to plants and animals that live in the temperate rainforest. Today we explored the similarities and differences between tropical rainforests and temperate. Ask your students what types of animals will live in the rainforest we will visit on Friday.
From Mr. B: ebarrons@blackbutte.k12.or.us
In Mr. B's K/1 Literacy class, students have completed their 'frog jump CAPITALS' and have made handfuls of three-letter (and definable) words with letters F, E, D, P, B, R, N and M. How many can YOU make? First graders are working on a story about Bob's surprise party. It involves a really large box and Mr. B's claustrophobia may have flared up! Both K/1 have begun to keep rhythm with percussion instruments and have several versions (dirge, snappy, and blistering) of 'Baa Baa, Black Sheep'. Watch out Metallica…we've arrived.
B's Bebop Literacy class is knee deep in the 'C Rule' and prepping to start the 'G Rule'. They've been working with digraphs (ch, sh, th, wh) and are getting ready to read an informational text about fire safety and firefighters. It should 'spark' some quality writing opportunities.
In Mr. B's art block, students are ramping up to complete a Glue & Go Mosaic with primary, secondary and neutral colors they've painted. These will look delicious…and hopefully 'taste' better than the actual tempera paint…not that the older students know what that tastes like!
From Ms. Steele: ssteele@blackbutte.k12.or.us
Bebop (2nd/3rd) Math students: Well, the bebop students have been amazing mathematicians lately, showing how well they can do open-ended problem solving.  And rocking the pattern we did on Monday.  They had to figure out how to put the 100 chart back together when it had fallen off the wall and spilled all its numbers.  They also got really creative figuring out what came next in this pattern 11 x 19 = 209, 11 x 28 = 308, 11 x 37 = 407, etc.  They took this pattern out a long way and only needed to use calculators a few times.
The Hodag (4th-8th) Math class is going to come together for a while and all learn the same thing. I think this is going to help everyone feel successful and supported.   We are going to spend the next few weeks getting super strong at doing prime factorization, using the distributive property, finding greatest common factor (GCF) and least common multiple (LCM) and learning about exponential form.  The last couple of weeks have been pretty challenging with the three different groups working on three different topics.  I am super excited for all to get to work together.
From Mr. Sharp: dsharp@blackbutte.k12.or.us
We are in the midst of week 4 of the school year and starting to get into some solid routines. In Humanities class we have moved on from our Oregon geography unit and are setting up our reading and writing routines for the year.
Students are selecting a book for independent reading this week that can start coming home. We have added this year's Oregon Battle of the Books (OBOB) collection to our library and Ms. Lindsey has offered to lead a BBS team in the competition. The students are excited about this possibility and many are planning to choose one of these books to read this month. Make sure to ask your child what book they are choosing to read first.
We have also been ramping up our writing work as well. Students are writing in the literacy notebook on a regular basis on a variety of topics. We are building up toward our first journalism assignment which we will begin next week. Some of the students haven't done much writing outside of school so we are learning to build stamina and write from the heart.
In Field Study class we are continuing to learn about water and how it impacts our local region. On Monday we conducted a fun hands-on experiment where the students built a model of a rain cloud. Our field study trip this Friday will be a great way to apply their learning from class to the real world. We will be exploring an old-growth temperate rainforest which should provide a very tangible example of how precipitation affects an ecosystem.
Overall, the Hodags have been working hard and already showing improvement on their academics. Let's keep it up!