Black Butte School Program Goals
Engage students in both hands-on classroom lessons and off-campus adventures.
Involve students in a project-based interdisciplinary Field Studies Program that enhances learning from the core curriculum.
Emphasize themes of sustainability and stewardship through local partnerships and by exploring the bioregion of the Metolius Basin.
Foster authentic relationships between students and their community by providing opportunities to connect with neighbors & businesses.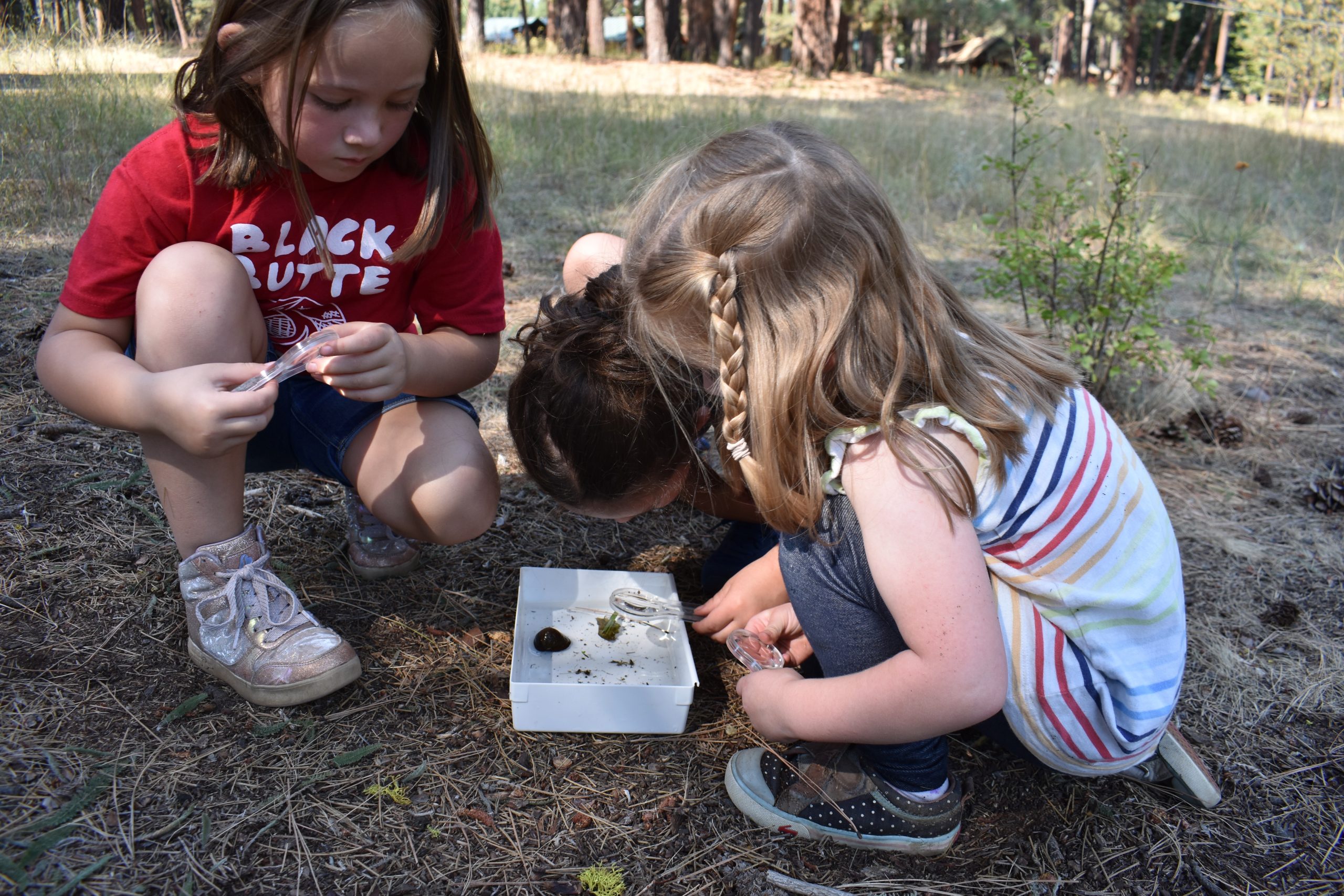 Cornerstone Field Studies Program
Our classroom extends far beyond the walls of the school. The Black Butte School field studies program allows students to bring together their knowledge from core subjects and apply it in the context of real-world projects in the community.
This interdisciplinary program combines Next Generation Science Standard (NGSS) with concepts from math, language arts, social studies, and art. During field studies class, students explore their local area while learning through hands-on projects connected to larger themes. The ultimate goal is to give students the skills and experiences necessary to become active participants in their community and problem-solve complex issues without a prescribed set of answers.
Foundational Core Curriculum
The core subjects  of math and literacy are the foundation of the Black Butte School curriculum. Each morning students break into their ability groups for focused time spent on these subjects. Literacy is a blend of language arts and social studies. These standards-based classes allow students to develop word and number fluency with an individualized curriculum.
In both language arts and math, students are engaged in a wide range of writing, reading, and problem-solving skills and activities through a mix of cooperative group/project work, independent reflection time, and self-regulated work time. We strive to utilize the five art modalities (visual art, music, drama, storytelling/poetry, and creative movement) with regularity in core subjects.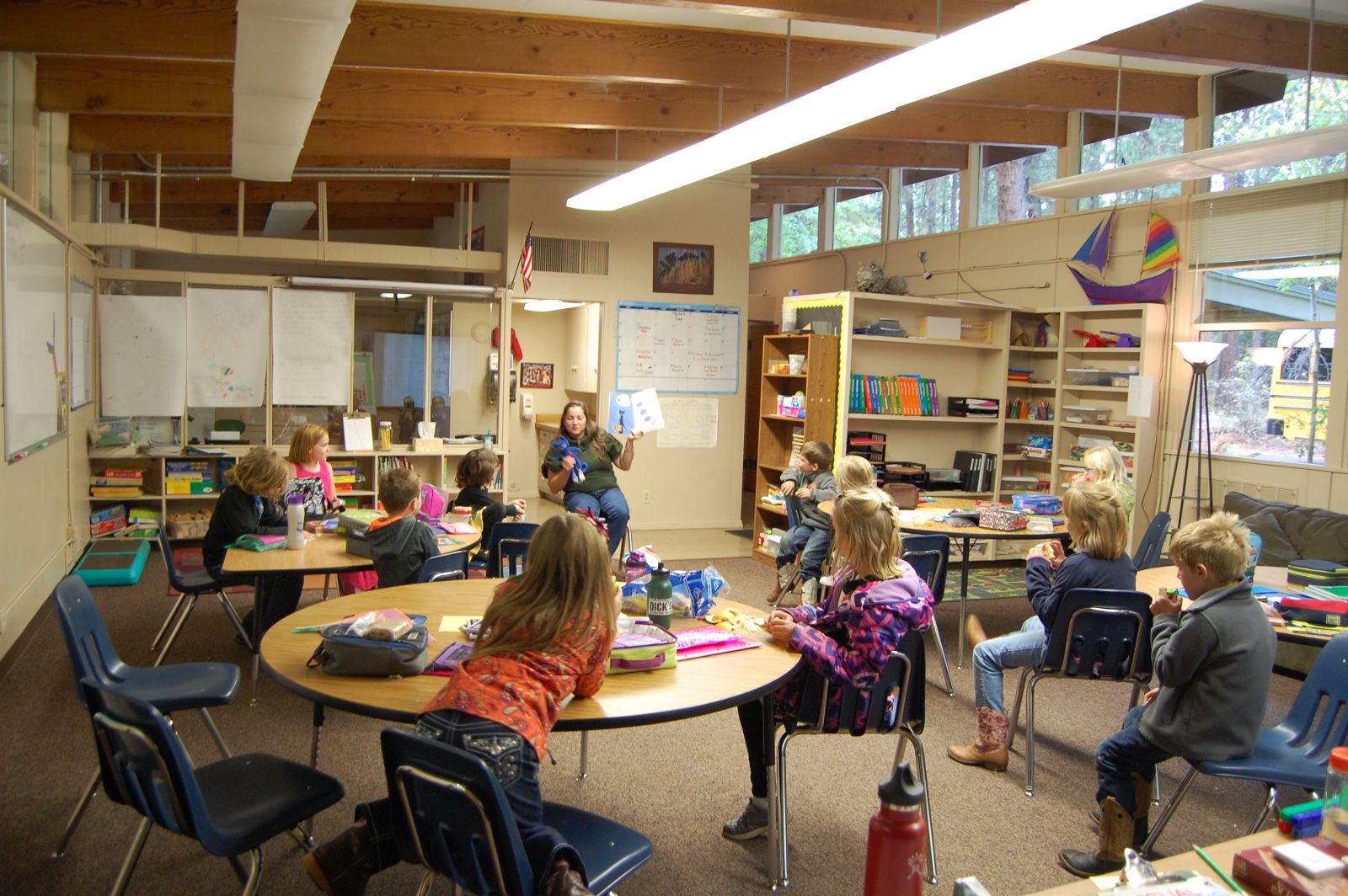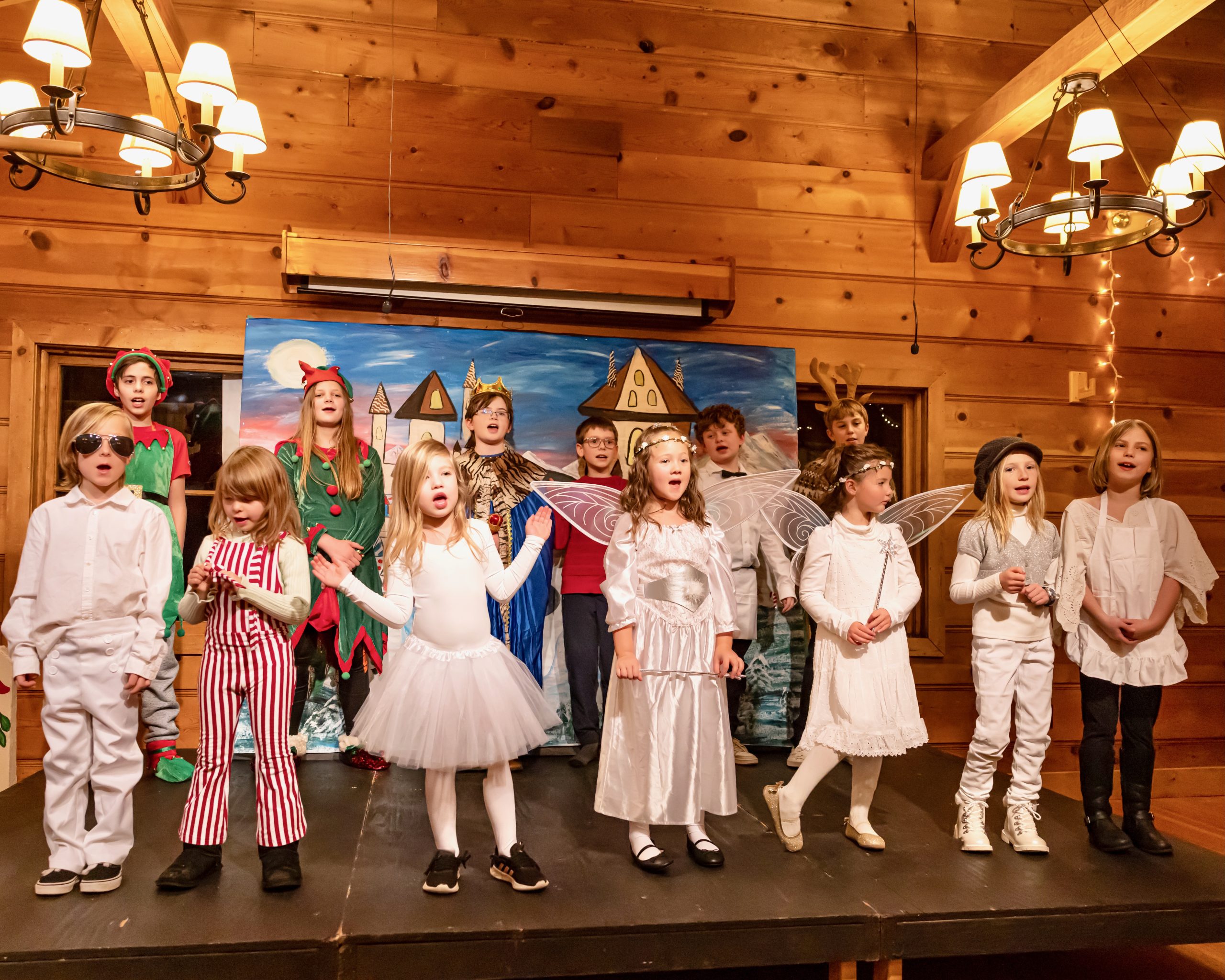 Enrichment Classes
In addition to our core curriculum, BBS offers enrichment classes to expand and deepen student's understanding of core subjects and the arts. Because of the small size of the school and staff, these classes are taught on a rotation. Over the course of a student's time at the school they will participate in a wide variety of enrichment classes including visual arts, performing arts, music, computer literacy, yearbook, journalism, engineering, and more.
Performing Arts
Performing Arts is a foundational part of BBS enrichment classes. Students participate in two performances per year. In the Fall, Jennie Sharp teaches during the Tues/Thurs Art Block leading up to a Winter Performance in early December at the Community Hall. In the Spring, Ethan Barrons guides the students in creative arts leading up to an End-of-Year performance in early June. From a Winter Parade to a Live Radio Show, from drama to comedy, the students are exposed to many forms of perfoming arts and gain amazing confidence in their stage abilities along the way.
Yearbook & Journalism
Upper grade students (4th-8th) have the opportunity to participate in both yearbook and journalism class.
BBS publishes a quarterly newsletter that is distributed to the community. All students write articles with topics relevant to local news and happenings and have the chance to be featured in the newsletter.
Yearbook class takes place throughout the school year. Students work on the creative design, photo layout, and content. Yearbooks are published and handed out to all students at the end of the year.
Health and Wellness Curriculum
Teaching students to lead healthy and fulfilling lives is a goal woven throughout all that we do at Black Butte School. To achieve this goal we dedicate focused time to physical fitness and learning about healthy lifestyle choices. This time is spent participating in a very active physical education class twice a week during the spring and fall, downhill skiing and snowboarding at Hoodoo once a week in the winter, swim lessons in the spring, and lots of hiking while we explore our local ecosystems in Field Studies.
Students participate in a standards-based health class every year to learn more about healthy lifestyle choices. We also incorporate aspects of wellness into all our classes to normalize living a healthy lifestyle. This includes lots of physical movement, time outdoors, environmental stewardship, healthy eating, and developing positive self-esteem and identity. Overall we approach wellness as a lifestyle that needs to be experienced on a daily basis and not just a subject to be studied in a classroom.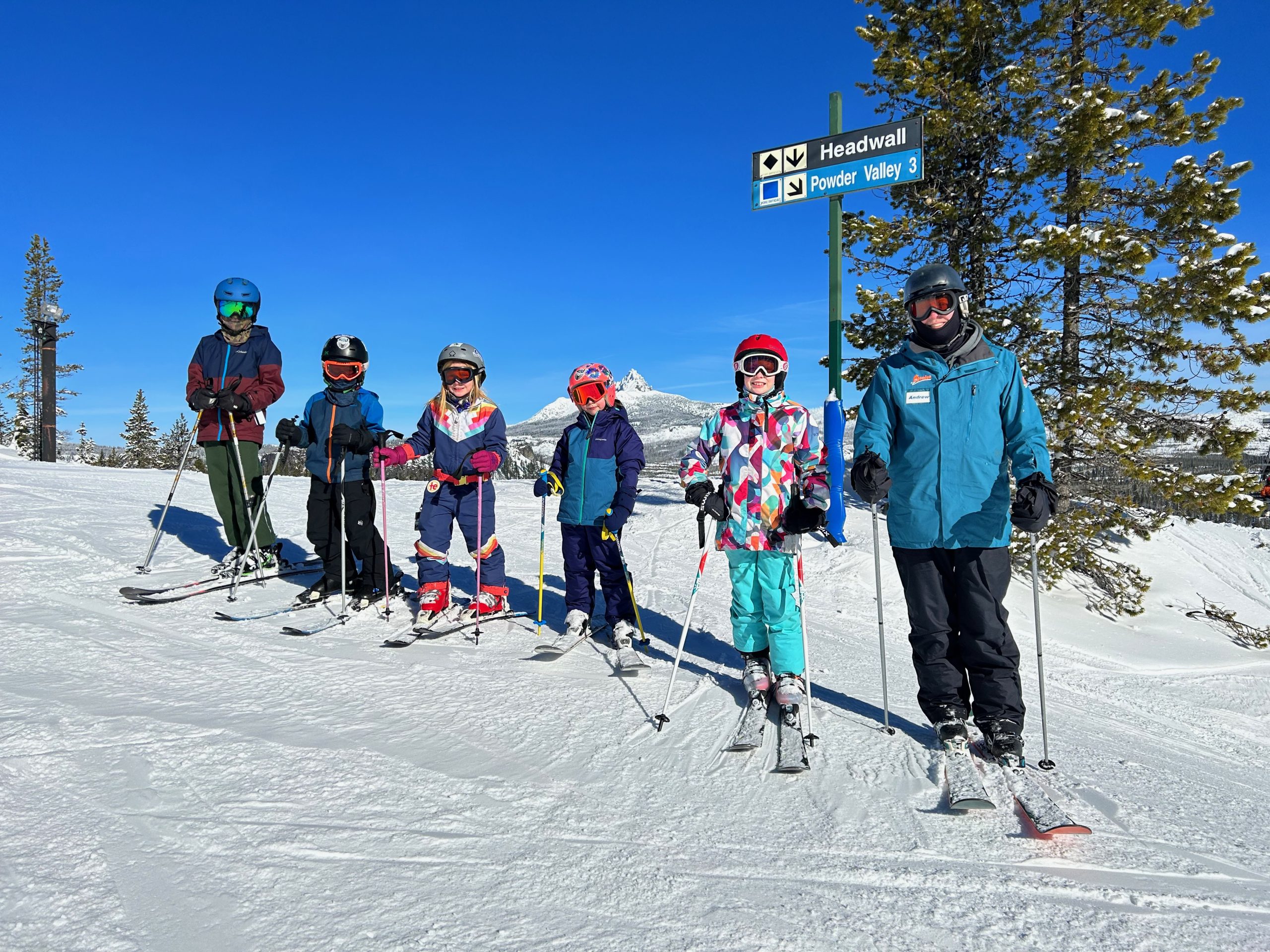 Ski & Ride Program
The school's Ski & Ride Program has been in existence for over 50 years. This program may be the only school-district-sponsored ski & ride program in Oregon that takes place during the school day.
The original goal of the program was to provide a physical education opportunity in the winter. That goal still exists; however, it is no longer our primary objective. After years of both parents and teachers assessing the students involved in the program, we have found providing an opportunity for the students to see their own personal growth in a tangible way in a short eight-week span is even more important than the physical education benefits; as a result, student development and accountability have become our primary objectives.
This unique program is a wonderful example of how a cooperative educational venture between parents, community, staff, Hoodoo management and the school board, all working together, can succeed. The success of this program has become a great source of community pride. This program is fully funded by the district and school is pleased to be able to sponsor the Black Butte School Ski & Ride Program. See complete Ski & Ride Handbook here.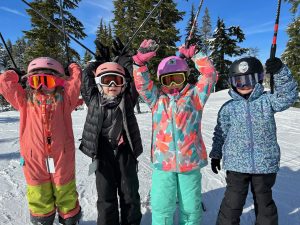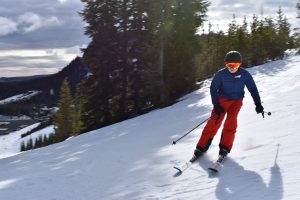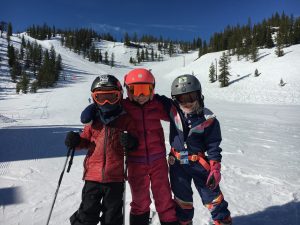 Swim Program
Black Butte School students participate in the annual Swim Program in the Spring.  Students are transported by bus to the Cascade Swim Center in Redmond for 5 days of lessons with highly qualified swim instructors.
This program is a focal part of our health & wellness curriculum in promoting physical fitness and healthy lifestyles. It supports learning water safety which is critical to living in Central Oregon with the numerous lakes and rivers. Students make incredible gains in both skills and confidence due to the concentrated number of lessons and consistency in the water.