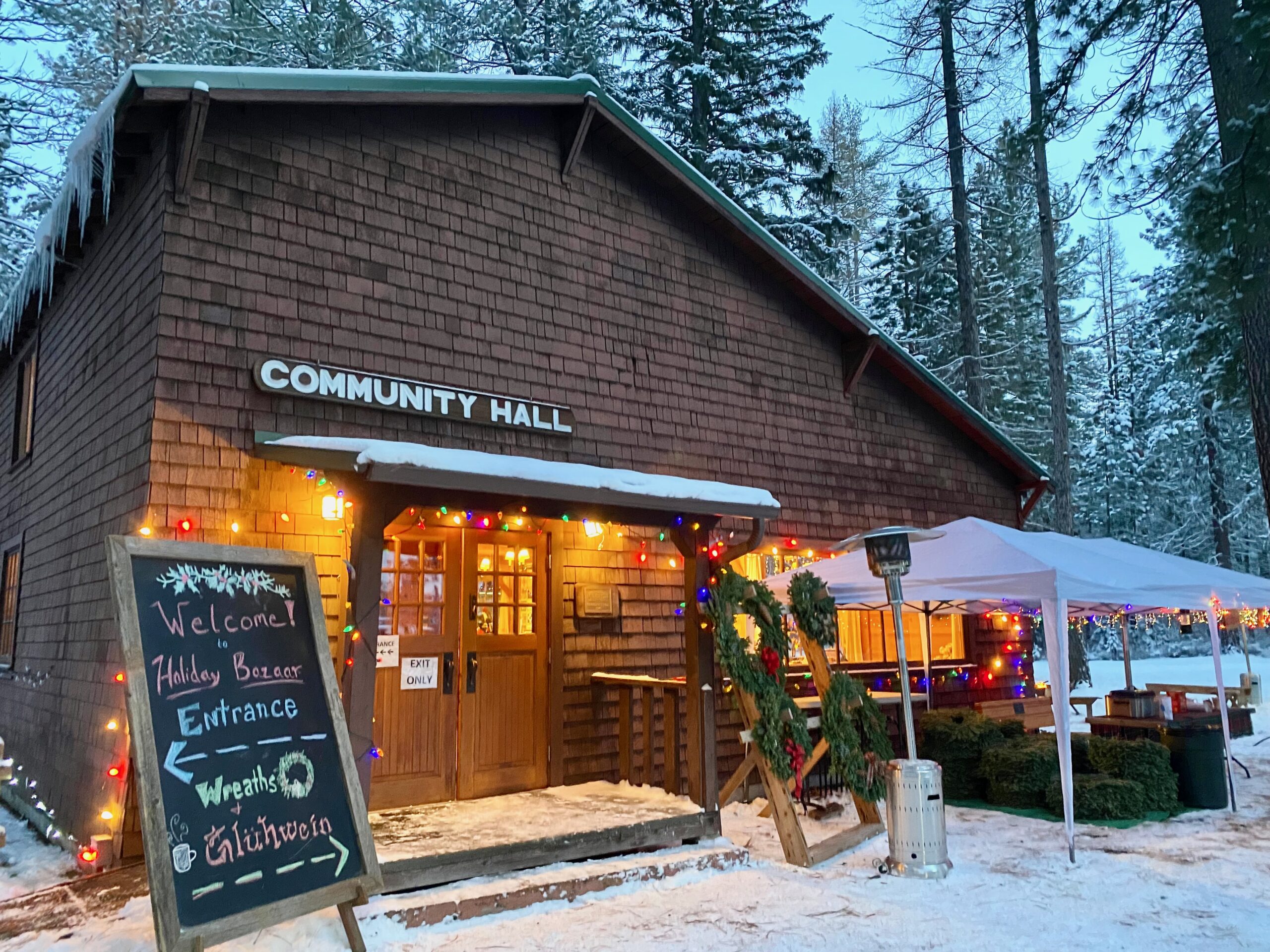 Camp Sherman Holiday Bazaar at the Community Hall
Friday December 1st, 5:00pm – 9:00pm
Saturday December 2nd, 10:00am – 3:00pm
The most wonderful time of the year …
…is just around the corner!
Get ready to enjoy the coziest of cozy winter experiences: The Camp Sherman Holiday Bazaar.
After a 15 year hiatus, this beloved tradition was revived in 2019 and is well on it's way to becoming a fixture in the holiday season. The historic Community Hall is the perfect setting for this event and is transformed with hundreds of twinkle lights, outdoor fire pits, delicious hot soup, baked goods, warm drinks, and plenty of good cheer.
Oh, and have we mentioned the shopping?! Local vendors and students fill the space with their handmade goods and treats. From smoked salmon to regional wines, nature photography to rustic birdhouses, handcrafted jewelry to ceramic mugs, fresh baked pies to apple butter and everything in between!
The Bazaar opens on Friday night with a hot soup dinner available for purchase. Local cooks provide a variety of choices – chilies, stews, and vegetarian options. All proceeds go to the Camp Sherman Historical Society and Community Association. Gather 'round the outdoor fire with mulled wine and listen to live music by the Smoke Drifters Trio.
Black Butte School students participate by making art during class time that is sold at the Bazaar for fundraising.  Students are highly encouraged to attend the Bazaar!  This is a special time for them to engage with our local community.
What to know:
Kids can sell their own handmade items and keep their earnings. Baked goods, art, bookmarks, notecards, ornaments … anything goes! Ask Molly for ideas.

BBS students will be working on art and craft projects at school in November. These in-class items will be sold to raise money for the PTO.
How to get involved:
Mark your calendar, spread the word and bring your friends!

Make (or support making) crafts with your kids. 

Parents sign up to volunteer at the Wreath Stand and students at the Bazaar table. Contact Molly to participate.
Pick up your wreaths at the Bazaar
Pre-order your holiday wreath at www.bbswreaths.com and pick up during Holiday Bazaar hours.
All proceeds from this annual fundraiser go towards enrichment activities for students, including an upcoming trip to Washington D.C. in 2025!