Healthy & Safe Schools Plan (HASS Plan)
In 2017, the Oregon State Legislature passed SB 1062, which requires that, every school district, education service district, and public charter school develop a Healthy and Safe Schools Plan (HASS Plan). Each organization's HASS Plan has specific requirements that must be included for the HASS Plan to comply with state law. All HASS Plans are due to the Oregon Department of Education by July 1, 2019. Additionally, each school district, education service district, and public charter school is required to certify annually that the organization continues to comply with the requirements of the HASS Plan by filing an Annual Statement.
Test Results Publications
Drinking Water Testing
Black Butte School District operates Public Water System #410519, which supplies water to the school building from a well located on the school district grounds. The water system is registered with the State of Oregon and Jefferson County Health Department as a Non-Community/Non-Transient system. The water supply is tested quarterly for coliforms and annually for nitrates. Recent lead and copper testing (every 3 years) determined the water to be under the tolerable limits. Testing for SOC and VOC also has been successfully completed on a 3 year cycle. Arsenic, IOC (inorganics), and Nitrates are tested every 9 years.
A Water System Operations Plan and Coliform Management Plan are located in the District Office and are available for inspection. A complete battery of water test results also is available for inspection.
Should a water sample test positive for coliforms, a notice will be sent home to parents/guardians. The district will take immediate remedial action as delineated in its management plan. This will include the purchase of water for students to drink.
Radon Testing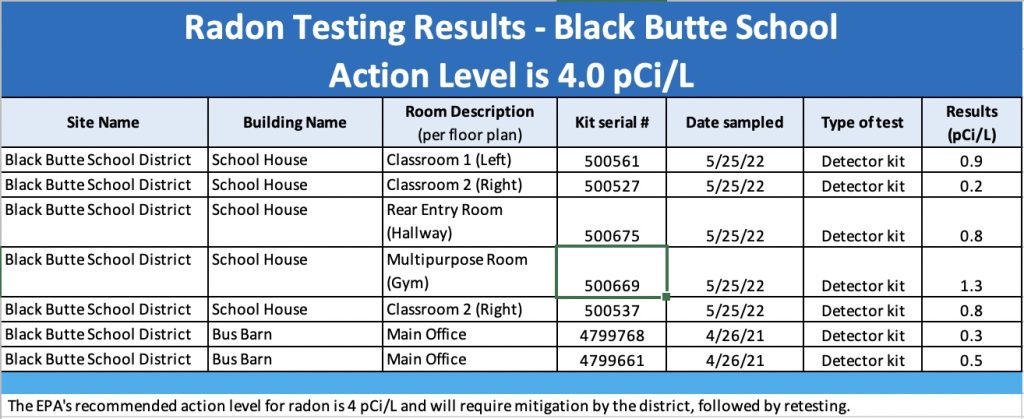 Responsible Persons
Healthy and Safe Schools Plan: 
Name:   Morgan Griffin
Position Title:   Facilities Operations Manager
Phone Number:   541.595.6203
Email Address:  mgriffin@blackbutte.k12.or.us
Mailing Address: PO Box 150, Camp Sherman, OR  97730
AHERA (Asbestos Hazard Emergency Response Act) Information: 
Name:   Morgan Griffin
Position Title:   Facilities Operations Manager
Phone Number:   541.595.6203
Email Address:  mgriffin@blackbutte.k12.or.us
Mailing Address: PO Box 150, Camp Sherman, OR  97730
IPM (Integrated Pest Management) Information: 
Name:   Morgan Griffin
Position Title:   Facilities Operations Manager
Phone Number:   541.595.6203
Email Address:  mgriffin@blackbutte.k12.or.us
Mailing Address: PO Box 150, Camp Sherman, OR  97730